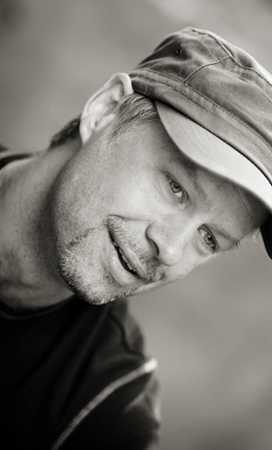 At the age of 12 a boy went with his parents to a B. B. King concert, where he discovered the magical world of American blues music, and soon after he started playing the guitar. In his teens his interest diverged to heavy metal, releasing a record which had better remain unnamed. During this brief period he could be seen walking the streets of Stockholm with his long hair dyed orange - which he claims was due to a mistake. However, lying on a hotel bed in Chicago, looking out at a rough backyard with the classic fire stairs, he experienced a true blues moment and decided to return to the music of his boyhood.
A. P. Meister, guitarist and singer/songwriter, spent his musical life in the 90's playing electric lead guitar, most notably with roots music/blues veterans Fat City Blues, releasing two albums and playing live constantly for a decade. After his final departure from this band in 2005 he came to reconsider his musical priorities, which led to a shift towards acoustic music and a rekindled love for the acoustic guitar. Having focused solely on the guitar in the past, he also felt the time had come to write and sing his own material.
A. P. Meister's music draws on folk, rock, blues, country and jazz . This diversity of influences is transformed into an original, laid-back but darkly evocative sound. Although the emphasis lies on songwriting and creating strong atmospheres, there is still plenty of room for the guitar.
Books have also played an essential role in his life, with interests ranging from Kerouac to Kafka - and all points in between. This is reflected in the poetic and often dark imagery of his lyrics. A handful of his poems have been published. Apart from being a musician, A. P. Meister also holds a MA degree in musicology and history of ideas.
© A. P. Meister 2022